Wednesday 6 November 18:00 - Frityren, Arktisk kultursenter
What is your truest moment? Who owns the truth? What is the truth?
Director Bente S. Andersen sent these three questions to people of various ages and backgrounds. She received very different answers, but there were some parallels. Words like love, nature and presence were found in most of the answers.

As stage artists, we have worked with the same three questions in this performance. Harold Pinter's "Nobel Speech" from 2005 has also been an inspiration and a backdrop. Pinter focuses on art, truth and politics in his speech.

"There are no hard distinctions between what is real and what is unreal, nor between what is true and what is false. A thing is not necessarily either true or false; it can be both true and false. I believe that these assertions still make sense and do still apply to the exploration of reality through art." – Harold Pinter

Further on, Pinter says in his Nobel Speech:
"Nor is it only important for us as human beings to seek the real truth in our lives. It is most necessary. If not to seek the truth becomes a part of our political vision, there will be no hope to restore what we have almost lost – the human dignity."

In this performance, we want to create a unique atmosphere where live music, dance, lights, pictures and text brings the audience into a reflective "slowness", with a lot of time for thoughts, experiences and reflections. The performance is a meeting point between artists and audience, between soup and conversations.

"I find the truth in conversations, face to face, like twisted trees in Finnmark, visible in rough terrain. The world is big. It's good not to be alone." - From the performance

"I think it was an amazing experience. I became engaged. I was provoked. I became thoughtful." - Sør-Varanger Avis
Photo: Hans Petter Eliassen and Torgrim Halvari
Duration approx 90 min including soup being served

Directing and dramaturgy Bente S. Andersen Text Ingeborg Arvola Composer/musician Andreas Fliflet Dancer Nikolay Shchetnev Actress Turid Skoglund Light designer Jan Harald Jensen Visual designer Magnus Holm Slettebø Lydteknikk Håkon Elias PettersenVoice-over (Harold Pinter) Sverre Porsanger/ Norwegian, Jan Egil Engnes/English, Vlad Timonin/ RussianTruth, voice-over Our children, friends and colleagues Production Samovarteateret
Samovarteateret is the world northernmost professional theatre, established at the border between east and west, in Kirkenes, Norway, in 1990. The theatre has from the very beginning developed new-written drama, and produced more than 50 professional stage performances with artists from more than 15 countries.Samovarteateret produce performances where different cultures, visual scenic expressions, text, movement, music and multilingualism is merged into a whole. Samovarteateret tours regionally, nationally and internationally.Samovarteateret has a strong community engagement, and creates performances which points at – or questions, our society today. We believe that our performances can communicate, touch and affect where politics and word are not enough. www.samovarteatret.com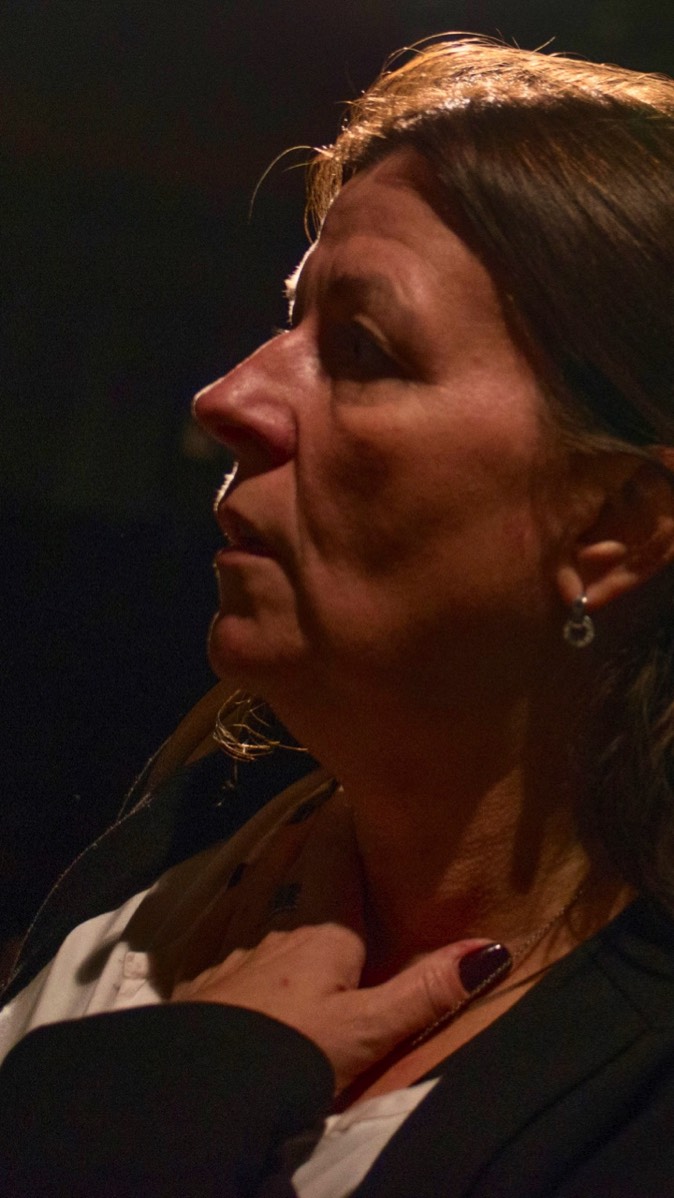 Bente S. Andersen trained as an actress and stage instructor at the Scandinavian theatre school, Copenhagen. She has solid experience in developing and working on newly written drama, both nationally and internationally. In 1990 she established Samovarteateret in Kirkenes, which let to more than 50 performing arts productions often intertwining text, movement and music. In 1996, she initiated the collective Pikene på broen (Kirkenes) and was central in developing the artistic foundation of Pikene på broen as we know them today. Samovarteateret visited Russia with their first production "sett ditt hjerte i mot mitt" as early as 1991, and since then toured the Barents region and Russia and collaborated in various areas, with children, youth and professional practitioners. Through her work at Samovarteateret, Andersen has received several awards and grants, among them Finnmark County's cultural prize in 1999 and 2014-2016 the Arts Council Norway Scholarship to develop the "Samovar" methodology. In 2017, Andersen and Samovarteateret became the Norwegian recipient of the first Barents scholarship, which was awarded during ministerial meeting in Arkhangelsk 2017. Andersen has also directed several commissioned works, both minor performing arts productions and larger outdoor productions. She developed, directed and instructed the opening of the Arctic Arts Festival in 2017.